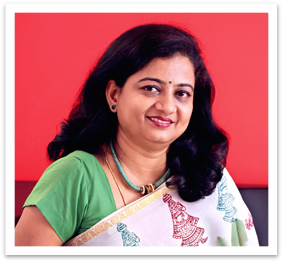 B Pharma, PGDMM, MPWE-IIMB
Founder & Managing Director,
Director IIMF (Institute of Integrative Medicine Foundation for Research & Education)
A graduate in pharmacy-B Pharma and PG Diploma in Management, holding key positions in eminent organizations, has embarked today into an independent entrepreneur with an ardent eye to opportunities in both new and existing areas of healthcare care marketing strategist, with applied expertise in strategic planning and healthcare branding.
She was honoured with the degree of Doctor of Excellence, Honoris Causa for Healthcare Management and have granted all the rights, privileges and honours thereto pertaining, by Young Scientists University, USA for her contribution in the field of healthcare and for excellent performance & undisputed commitment through their sustainable work in health care which can benefit both country and society at large in her professional endeavours.
She was an Independent Brand Consultant, and has served hospital groups such as Fortis, Saakra World Hospital, Motherhood, Aster DM Group, other than few small and medium sized firms. She is known for her innovations and live wire. She has served as a Brand Head at Wockhardt Hospital group; as a Product Manager in Himalaya Drug Company and Recon-Cadila Health care Pvt. ltd. She supported her aspirations by completing certification courses in various eastern therapies for a relative understanding of both the systems, started her entrepreneurial journey after completing MPWE course in IIMB, Bangalore.

In her quest to explore further on eastern medicine, went on to do series of courses in Reiki I and II, yoga therapy, acupressure course, many medication techniques, EFT and NLP in order to correlate the modern understanding of medical science to traditional understanding of body and mind, and derive at a scientific approach to suit the modern society.

Dr Roopa is involved in healing and counselling process in her organization WELLBEEING through visualization, affirmation and EFT session, and have influenced over 1000 patients for positive health, Has initiated many social impact projects with Peoples Trust, Rotary Bangalore North, AYUSH-Ministry of Health and Welfare, Government of India. Also has been conducting many corporate wellness programs and influencing many corporate to adapt healthy lifestyle solutions.

With an exposure to both modern & alternative system of medicine, and appreciating the science of eastern systems of medicines, her vision towards integrating the two systems, for giving the best of both back to the society, only became stronger. Today her entire focus is to establish 'Integrative Medicine' and pioneer this concept in the country and pass on this wisdom to a common man in the society under the guidance of healthcare professionals from all systems of medicine. She believes India can be the only country which can take a leadership position in 'Integrative Medicine' which can combine the strengths of both advancement of modern system of medicine with the source of 5000+ years old traditional science (Ayurveda-Naturopathy). A right chord between the two systems, right support, with the right value systems can make this happen is what she strongly believes.