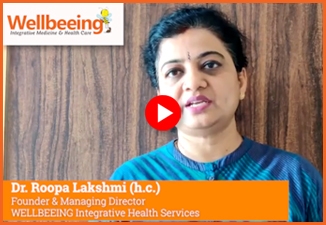 B Pharma, PGDMM, MPWE-IIMB
Founder & Managing Director,
Director IIMF (Institute of Integrative Medicine Foundation for Research & Education)
Dear Patrons,

Greetings from WELLBEEING! Your health and well-being does not have much to do with the medical care you receive. Perhaps not very surprising, if you are already aware of the gamut of influences that contribute to your well-being - behavioral, emotional, environmental and social factors.
But certainly eye-opening, if you believe flexing money and tech power alone equals well-being. The privilege to health begins with access to information, media, and technology and moves on to the availability of food in our neighborhood, association influence and work-life balance among a zillion other tertiary factors. And remember, none of these have anything to do with sophisticated medical care constantly packaged and proposed to you.

Although the medical curriculum and the medical system as such hasn't changed in the last few decades, patients' needs have changed drastically over the years and today, there is a humongous gap between the competence of the curriculum and the healthcare requirements of the population. Statistics reveal that the number of patients with chronic health conditions is increasing at an alarming rate. Considering the present medical conditions at our disposal and the lifestyle that most of the Indian population has adopted, it is predicted that over 20% of Indians are likely to suffer from some form of mental illness. However, owing to stigma associated with mental illness coupled with a lack of awareness and limited access to professional help, only 10-12% of these patients seek help. Doctors who practice functional medicine confirm that "only about 20% of our health status is attributable to health access to medical care, while another 20% is tied to genetics." This proves that lifestyle factors and social determinants have an incredibly important impact on a healthy lifestyle.

What's further alarming is that lifestyle diseases such as hypertension and diabetes affect 1 in every 5 Indian adults living in urban cities. Diabetes affects many parts of the body and is associated with serious complications within the system, such as heart disease, stroke, blindness, kidney failure, apart from cognitive impairment among other conditions. Each of these chronic problems has a large impact on an individual's mental health. The Covid mayhem has been an evidence to this and how! Right now, caring for this new population that has straddled the pandemic, a global health issue and individual well-being, a personal issue, requires an entirely different mindset.

By addressing these important health and medical concerns, by always focusing on people's health, social and family determinants and by tirelessly striving for excellence, WELLBEEING has seen numerous positive results in patients who sought treatment here. The results and the patients' testimonials represent the most recent tangible expression of our mission: creating healthier communities and providing quality ageing through the Integrative & Functional Medicine approach. The team of doctors see the disease as a whole and adopt a multi-pronged approach to treatment. It is intended to be 'patient-centric' and not 'disease-centric,' which means every patient's individual parameters are honored and the treatment is offered with customized plans, which assure sustainable health and wellness.

At WELLBEEING, our three fundamental objectives in order to make a difference in this nascent yet promising industry loaded with potentiality are:

To transform WELLBEEING into a health care provider and not just a clinic system, in order to ensure basic human needs are addressed with a personalised approach, as a universal standard for healthcare
To influence the way medicine could be practiced for better quality of life and thereby treat the person as a whole entity comprising mind, body and spirit.
To create an ecosystem in the community, where we extend support and build awareness about health and well-being, the ripple effects of which will benefit larger communities, societies and further on, the nation and countries across the globe.
Let's now draw your attention to a couple of experiences of our integrated team of doctors, which demonstrate the benefits of our health and wellness program: A diabetic patient approached WELLBEEING with trouble attending to his everyday activities in general and driving in particular due to double vision or diplopic vision. This was due to nerve paralysis, a result of prolonged diabetes. The health advisor with a care coordinator at WELLBEEING first counselled him and advised him to enroll for the 'Diabetes Reversal Program'. The results at the end of the two-months may be miraculous to the uninitiated but obvious to be familiar with Integrative and Functional Medicine. Under the guidance of a competent Diabetologist and an expert team of doctors: this patient's vision was restored upto 98%, his fasting sugar dropped to normalcy, there was substantial improvement in general well-being, there was a spike in energy levels and overall reduction in his medications drastically. Today, he cheerfully drives to the clinic by himself and confidently attends to all his daily activities without a worry.

Now, look at this instance: A 48 yr-old entrepreneur approached WELLBEEING with chronic digestive disorder, diabetes and hypothyroid which were persistent for over 10 years and BP for over 12 years. Bombarded with a series of various medication every day, maintaining a work-life balance was challenging for him. His wife enrolled him into WELLBEEING's DRP program. A comprehensive screening and risk analysis were meticulously executed due to the numerous issues. The expert team of doctors had to address his stress levels, work at reducing the underlying symptoms and control his sugar levels with certain corrections in food habits. With close monitoring along with therapies and treatment interventions, in a span of 3 months, his BP reduced from 150/100 to 110/70 mmhg, Thyroid antibodies (TPO) reduced from 1300 to 130 mg/dl which, cholesterol restored to normalcy and there was significant improvement in Vit D levels. Evidence through D-RAP technology (disease risk analysis) proved that arterial health and nervous system (ANS) were back to healthy.

Similarly, people who approached us with Parkinson's, fertility issues, hormonal imbalances, autoimmune disorders, etc. completed our programs successfully, with their health and well-being restored to normalcy. These problems that are categorized as chronic disorders are rather common and inter-related, yet the conventional medical practice prescribes multiple medications for each of the symptoms, which can sometimes be confusing to the mind and body.

Integrative and Functional approach to medicine and treatment sounds very simple and basic at the outset but in reality that's all it takes, to care for people's health and well-being. Non-traditional approaches to health care helps people thrive in their most natural environment, providing them with the little things that we often take for granted. And this approach to health and wellness in my opinion, has a huge and lasting impact on our communities. We, at WELLBEEING are very excited about such sustainable transformations in the people who approach us. The hearty smiles accompanying the impressive results of our patients who have sought preventive, curative, reversal and rehabilitative care at WELLBEEING has been most satisfactory. It has encouraged us to deep dive further into more research to create scientific evidences and evolve many standardized and personalized protocols in integrative and functional medicine. This in turn would enable us to treat and transform lives of more people suffering from chronic diseases.

Our endeavor has undoubtedly been challenging from inception and the entrepreneurial journey, like all others, is nothing short of a roller-coaster ride. However, tenacity to our purpose - that of marrying the two systems - western and eastern medicine for effective results and promising opportunities to treat illness, with a multi-pronged holistic approach, motivated us to pursue our effort to evolve constantly. We think it's high time we redefine our health system: our nation, which introduced medicine to the world possesses a treasure trove of over 5000 years of knowledge of traditional medical science hidden in various forms. Time to redefine our healthcare system has surely arrived. Today, I am positive that this is the collective opinion of doctors, academicians and the common man. I am equally confident that no other country can take up the leadership stance in 'Integrated and Functional Medicine' as much as this country can. However, this requires significant support in terms of human resources, funds, advanced technology and like-minded health professionals to come together, to collaborate, ideate and create. WELLBEEING is successful in its endeavor and is consistent in its unwavering spirit and pursuit of excellence over the past decade with the staunch support of competent doctors and specialists who are extremely passionate about this journey. And we are all set to take charge of the decades to come.

To put it simply, Integrative and Functional Medicine is the future! The future of health care lies outside of the traditional limitations of the hospital premises. The future of healthcare rests in the assurance that is given by an evolved healthcare system that concentrates on wellness care rather sickness care, one that focuses on clear outcomes such as higher quality, lower costs, higher value and better overall safety. This is our earnest strife at WELLBEEING - holistic well-being that every individual is aspiring for.

Warm regards,
Dr. Roopa Lakshmi (H.C)