Has wide experience of over 12 years after completing her B.A.M.S. from B.V. V. S Ayurveda Medical College & Hospital, Bagalkot Dist. – Karnataka, and Post-Graduation (Panchakarma) from S.K.A.M.C. H. & R.C Bangalore Dist. - Karnataka. Apart from running her own clinic, she has worked as a consultant in eminent organizations and institutes such as Sanjeevini Hospital, Raichur, Vidyaranya Ayurvedalaya, Shathayu Ayurveda Clinic as Medical Officer, Indian Institute of Ayurveda College and Hospital and currently holds an academic position in Atreya Ayurveda Medical College, Hospital & Research center. Have conducted many medical camps, and was a part of a survey in and around Doddaballapura covering 35 villages for a research project.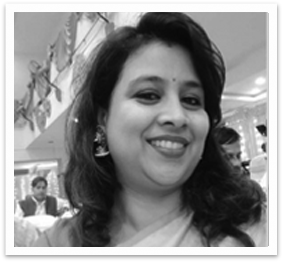 Dr. Sushma Pujari
BAMS, MD (Panchakarma)
Consultant Ayurveda Physician
Her interest and expertise lies in treating Respiratory Disorders, Musculoskeletal disorders and metabolic disorders & lifestyle disorders like Obesity, Diabetes and Hypertension, RA (Rheumatoid Arthritis), Psoriasis patients. Her passion is in safe treatment in disorders that are generally challenged in conventional system management. At the outset she has treated over 4000 patients successfully.

She strongly believes that Ayurveda practice must adapt latest medical technology as strong validation process for developing evidences to suit the modern science demands for disease management and diagnosis. She is fluent in English, Hindi, Kannada & can manage with Telugu, Gujarathi & Marathi. Loves gardening and cooking other than music and traveling.

Her dissertation subject was on the Respiratory Disorder. She has presented her papers in many scientific forums. Few of her presentation in International Conferences were on topics such as "Effect of Arka (essence extracted from Distillation method) of Ginger officinale in the management of Bronchial Asthma" given in the form of Ayurvedic Nebulization. & "Effect of detox with specially processed minerals, in the management of Paralytic patients"
Her Special interests are in treating the follwoing disorders
Bronchial Asthma is a condition in which your airways are narrowed, swells and produce extra mucus. This can make breathing difficult and trigger coughing, a whistling sound (wheezing) when you breathe out and shortness of breath. A unique way of treating this disease are combination of treatment & rejuvenation therapy like Abhyanga & Steam, various types of lung detox through scientifically proven ancient Ayurveda therapies, which helps in liquefaction of mucus and expelling the same out of the body by targeting the organ involved directly & maintained by rejuvenating medicine (Rasayana) along with Yoga.
Obesity is a complex disease involving an excessive amount of body fat. Obesity isn't just a cosmetic concern, it's a medical problem that increases your risk of other diseases and health problems, such as heart disease, diabetes, high blood pressure, Infertility & hormonal imbalance. It is defined by BMI. Exercise, gymming, strict diet if not surgeries to reduce weight a person will be fed up by doing all this with the help of Ayurveda, which helps through various therapies like powder massage, steaming, detox therapies, Enema can reduce weight followed by either diet or exercise.
Musculoskeletal disorders & Auto immune disorders are disorders of the muscles, nerves, tendons, joints, cartilage, and spinal discs etc. & diseases like osteoarthritis, rheumatoid arthritis, psoriatic arthritis, gout, ankylosing spondylitis, osteoporosis, osteopenia. Major complains are pain or stiffness which are taken care by pain killers or by steroids. Ayurveda has a unique way of approach in the form of Enema, Kati - Janu - Greeva Basti with different combination of oils, Potali steaming (formation using specific therapeutic leaves, rice, egg, meat extract) which nourishes & reduces the pain. This helps for mechanical corrections in the joints by nurturing and rejuvenating the same and muscles around. If left untreated, the joint can lose its shape and alignment, cause bone erosion and ultimately lead to destruction of the joint, change in walking style and permanent disability.
Psoriasis is a burning disease which hampers the routine of an indivisual. Most of the Allopathic doctors says "Psoriasis is a common, long-term (chronic) disease with no cure. It tends to go through cycles, flaring for a few weeks or months, then subsiding for a while or going into remission". Ayurvedis science advised various types including therapies that detoxes the body along with internal herbal medications that suits the body type.
Detox therapy - The basic concept in Ayurveda is that the detoxification of the body helps to maintain the health of a healthy person at its optimum & destroy the disease of a patient. This can be attained through fivefold detox procedures (called Vamana, Virechana, Basti, Nasya & Rakta mokshana). In other words it's like servicing our body like we service our vehicles. Our body can be fit and fine if we undergo detoxification of our body at least once in a year, along with preventive health check. In fact, one can observe many blood parameters that may be out of balance many times, becomes normal after detox.

It has become quite a popular & safe method to throw toxins out of the body. Many people internationally are interested in this subject 'detox' and is receiving plenty of media attention. This concept has an old tradition backing it. Never has this been more relevant than now with the current unhealthy diet consumption, smoking, alcohol, stress and environmental toxins impact and strain on people. Ayurvedic detox therapy takes the strain off the body, allowing a return to health and restoring inner strength.